Posted: April 23rd, 2015 | Author:
Max Katz
| Filed under:
API
,
Partner
,
Security
| Tags:
API
,
Partner
,
Security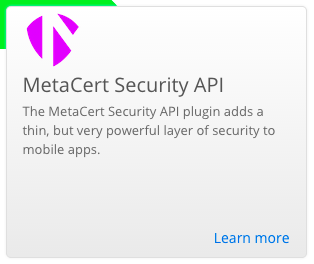 We are happy to announce that we have worked with MetaCert to provide a security API to enable our developers to protect their apps from malicious and unwanted links.
Most mobile malware is downloaded when end users click on malicious links inside legitimate apps. The MetaCert Security API adds a thin, but very powerful, layer of security to your app.
The API allows you to check the reputation of web links in real time, providing an invisibly secure experience. It can be used to block phishing sites from loading or navigating to. You can also stop end-users from sharing links that are NSFW.
To make it even simpler to use the MetaCert Security API, we have published a MetaCert plug-in. Appery.io developers can quickly add the plug-in to any new or existing app and check for the reputation of any web links in the app. Read the rest of this entry »
---