When starting a new mobile app in Appery.io Mobile App Builder, you get two choices. You can create a mobile app which is essentially a PhoneGap app, or a mobile web app which is pure HTML5, jQuery Mobile app. When going with a mobile web app, you can easily publish and host your app from Appery.io by clicking the Publish button.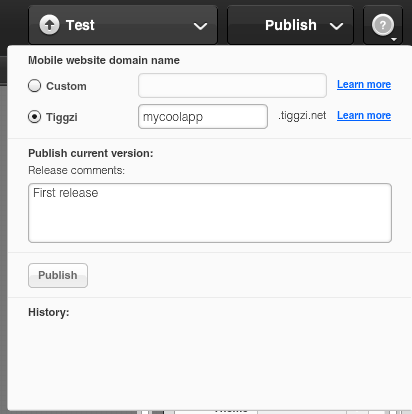 You can create a subdomain such as mycoolapp.appery.io but can also use completely custom domain. This is an incredible feature because you can build the app in the cloud and then do one-click publish. Your app is published in about 3 minutes. Once the app is published, you can continue working and republish the app once the new release (new features) were added.
Mobile app hosting is included in the Pro plan and can be added as an option to the Standard plan for $10/m.
Lastly, if this sort of hosting is not your cup of tea, you can always export the app and host it anywhere else. Either way – it's super easy and fast.