Considering how you can quickly make your mobile app support different languages? Or need to make your online store app easily adapted to specific local languages tht will definitely increase the profit? And, of course, you want to add more value to your project without investing much development time? We have the simple and fast solution that can help: apply the Internationalization feature to your Appery.io project(s).
We are happy to let you know that you can now try our sample app created to demonstrate the multilingual Ionic 5 mobile app built with Appery.io using ngx-translate third-party Internationalization (i18n) library.
And even more than that: you not only have the option to follow the instructions in order to get the working app, but also use the one-click-away option to install the fully functioning Ionic 5 app.
Well, actually, all you need to do is simply click this link and in a moment, your app is ready to start!
To test it, try clicking the language switching buttons in the header along with clicking the SUBMIT YOUR FEEDBACK button: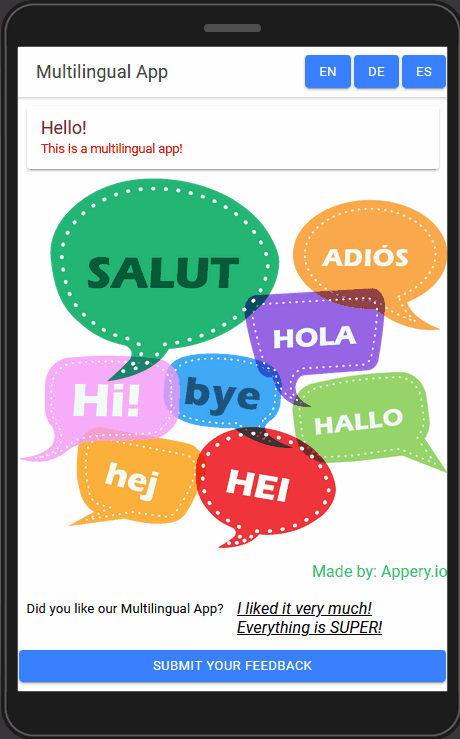 And last but not least: 
You can also try the magnificent option of quick testing the app on your device: use our Appery.io Tester app. The app is absolutely free and available for both iOS and Android.
Doing this is super easy – just install the Tester app on your device, run it and scan the code below to enjoy the app on the device: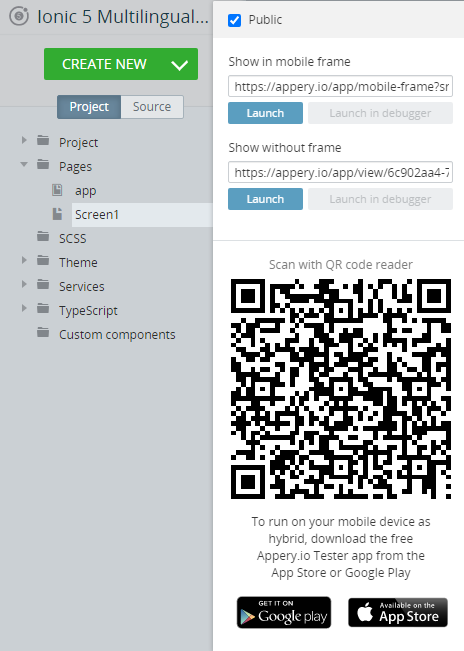 Happy developing!