Last October, we released the Restaurant App, which proved to be a huge success. We, therefore, decided to improve and enhance it so that our users were able to get the best results out of a combination of low-code development and a professionally-looking restaurant app. Here's your chance to see for yourself.
Our updated Restaurant App template includes ready-to-use services and an easy-to-use UI. The template can be recreated within your Appery.io account in just a few simple steps:
Log in to your account, open the Apps tab, and click Create new app.
Select Templates > Restaurant App and hit the Create button: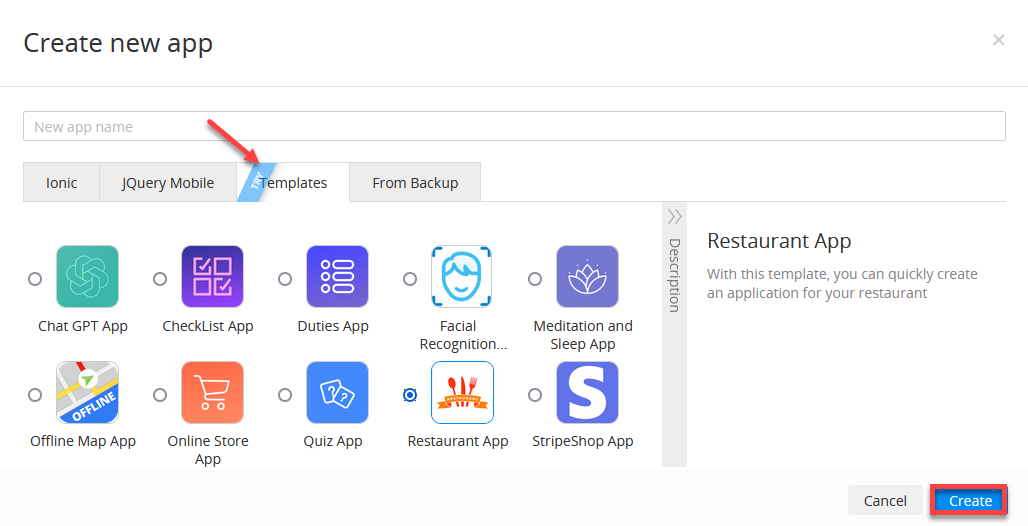 In a moment, you can start testing the app that now features a new stunning UI, the cart, and the internationalization option:

The template uses and demonstrates Ionic, Appery.io Database, and Appery.io Server Code. Also, being a template, it offers a great number of customization options so that any small restaurant business owner could adapt it to his business needs and personal preferences.
Those who are only beginning their Appery.io journey and are unfamiliar with our platform can find detailed instructions in an accompanying document.
Please rest assured that you are the creator and you are the only owner of this application (actually, like any other app created with Appery.io).
For more details, you can check our Copyright, Trademark, and Content Ownership section here.
The article also explains how to export your custom restaurant application and publish it so that it can be accessed from any browser on any mobile device.
Please check this link to see what your customized published app can look like.
Please take a moment to try our updated template out and…
Bon appétit!