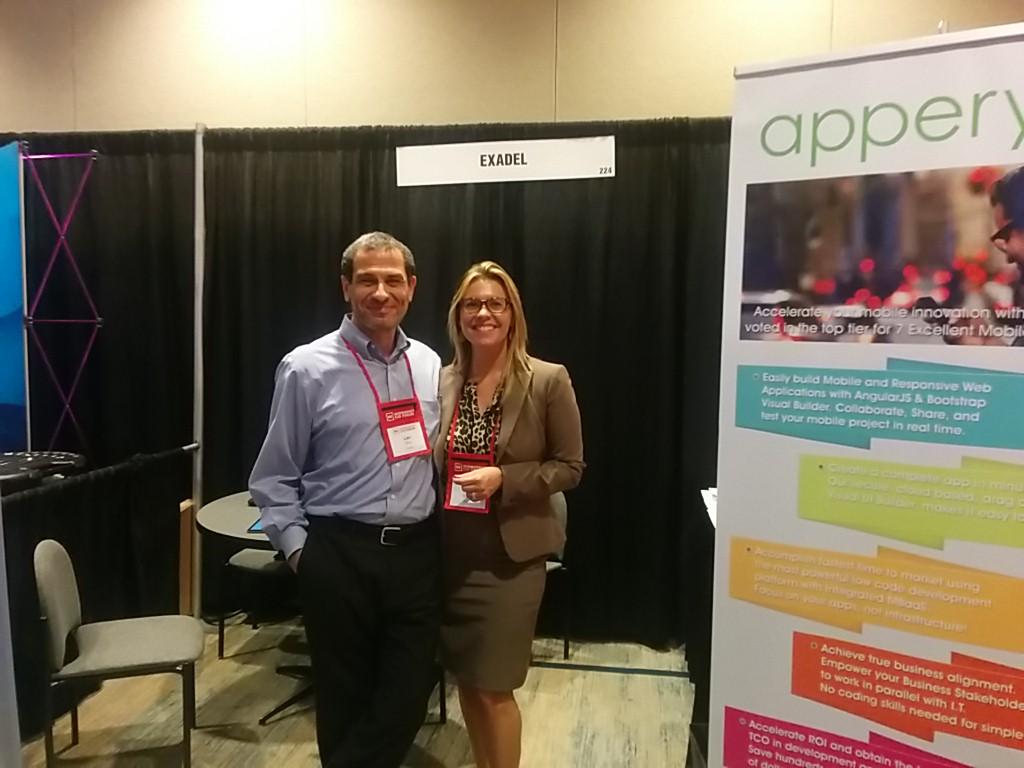 Appery.io at the Mid-Market CIO Forum
New Appery.io & MetaCert Security API for Mobile Apps
Appery.io & Responsive Mobile Development
The M6 Mobility xChange Summit
How to Keep BYOT (Bring Your Own Tool) out of your Bimodal IT Strategy
SD Times Covers Appery.io's Debut as the First Low-code Platform for Rapid Development of Omni-channel Applications
Upcoming Webinar
Appery.io at the Mid-Market CIO Forum
Appery.io's Niki Scherer and Max Katz recently participated in the BE Mid-Market CIO Forum in Orlando, Fl. The forum drew over a hundred forward-thinking CIOs and executives from across the country to network and discuss best practices for the challenges that enterprises are experiencing. Top areas of discussion included security, mobile, and how to build flexible systems for changing environments. Appery.io was welcomed as a new contender for meeting the app development needs of the enterprise as a solution that is cost-effective, sustainable, and secure.
Appery.io Works with MetaCert to Provide Security API for Mobile Apps
We recently announced that we have worked with MetaCert to provide a security API to enable our developers to protect their apps from malicious and unwanted links. The API allows you to check the reputation of web links in real time, providing an invisibly secure experience. It can be used to block phishing sites from loading or navigating to. You can also stop end users from sharing links that are NSFW. To make it even simpler to use the MetaCert Security API, we have published a MetaCert plug-in. Appery.io developers can quickly add the plug-in to any new or existing app and check for the reputation of any web links in the app.
Appery.io and Responsive Mobile Development
In a recent article, 451 Research's Chris March discussed Appery.io's support for Bootstrap and AngularJS in terms of the future of app development. Referring to the new Visual Builder, which supports AngularJS, Bootstrap, and will soon support Ionic, he states "Appery.io has gone further than most mobile application platform vendors with its responsive, cross platform story."
To read the whole article, simply subscribe to trial account with 451 Research here.
Join Us May 17th-19th at the M6 Mobility xChange Summit
Join us in sunny San Diego, CA, for the M6 Mobility xChange Summit. We will take part in a CEO panel discussion on "What It Takes To Build Apps That Matter." Topics include: What tools are required? Do you need mobile app development platforms, mobile middleware, MBaaS, analytics or other types of tools?
Learn about the event and how to apply for an invitation here!
How to Keep BYOT (Bring Your Own Tool) out of your Bimodal IT Strategy
In his informative new Enterprise Apps Today article, Fima Katz, our CEO, discusses how Bimodal IT will challenge app development teams to maintain data security and other development best practices, and how a flexible development platform can help. The solution, Fima explains, is "a mobile strategy that adequately supports the needs of business users while ensuring the role of IT as a facilitator."
Read the rest of the article, and learn how to keep BYOT out of your mobile strategy here!
SD Times Covers Appery.io's Debut as the First Low-code Platform for Rapid Development of Omni-channel Applications
We were the first mobile platform to offer a cloud-based rapid development environment with integrated backend services. Since we recently announced our support for the AngularJS and Bootstrap frameworks, we've become the first low-code platform for rapid development of responsive and mobile apps across phones, tablets and desktops. As the SD Times reports, "The upgrade empowers both IT and citizen developers to target iOS, Android, Windows Phone and web browsers with a single codebase."
Upcoming Webinar
Stay tuned to our Plancast for all of our upcoming events!