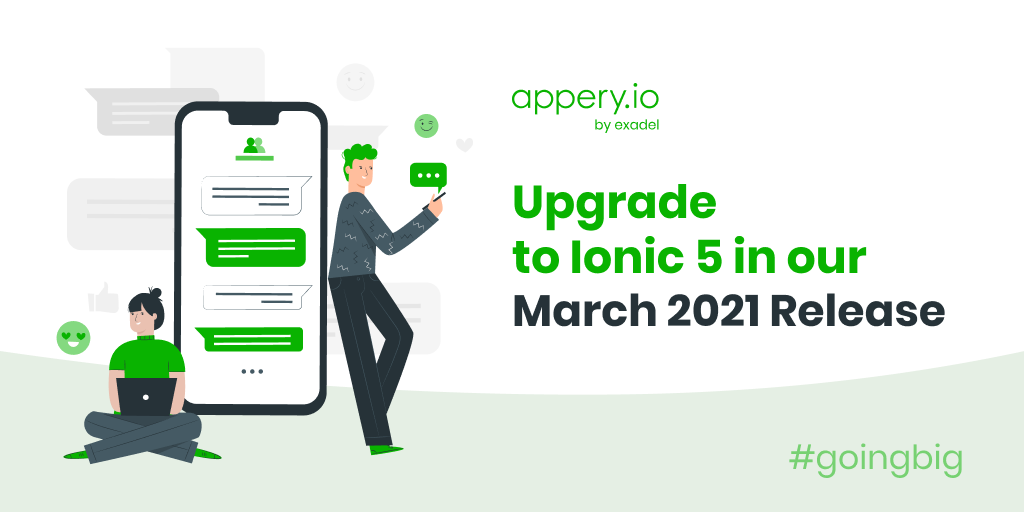 We are proud to announce our March 2021 release: Appery.io is officially the first low code editor upgrading to Ionic 5!
The main focus is to introduce a smooth conversion from Ionic 4 to Ionic 5 and this has become one of our biggest achievements since we moved to Ionic 4. Transferring to this game-changing framework is already a big step but we would also like to share our long-term plans that go far beyond pure conversion.
With this release, we are introducing Ionic 5 support and enabling all our users to create both Ionic 4 and Ionic 5 apps independently;
In Q2 2021, the option of upgrading Ionic 4 projects to the Ionic 5 version with keeping both apps active will be offered;
Yet another milestone will be disabling the possibility of creating Ionic 4 projects (early June);
With all that being said, we will continue the support of all Ionic 4 projects and their backups until at least 2023.
And now, just in case you are still hesitant about whether you should evaluate the advantages Ionic 5 can bring to your project, we have outlined some of them to consider:
Ionic 5 applications look very modern, run faster, and are much more reliable;
The latest Ionic version follows the modern Material Design Guidelines and Human Interface Guidelines from Apple;
Conversion and adoption rates are extremely favorable;
With Ionic 5, you are guaranteed to enjoy working with the

top-notch

framework, efficiently collaborate with the Ionic community, and get access to the latest Ionic and Angular UI components;
Custom animations, revamped Ionicons, updated Ionic colors, new starter designs, improvements to component customization (including but not limited to

iOS 13 design updates

), and more are available.
We are happy that our users will now be able to enjoy highly engaging development practices while creating native experiences on the most advanced mobile device versions.