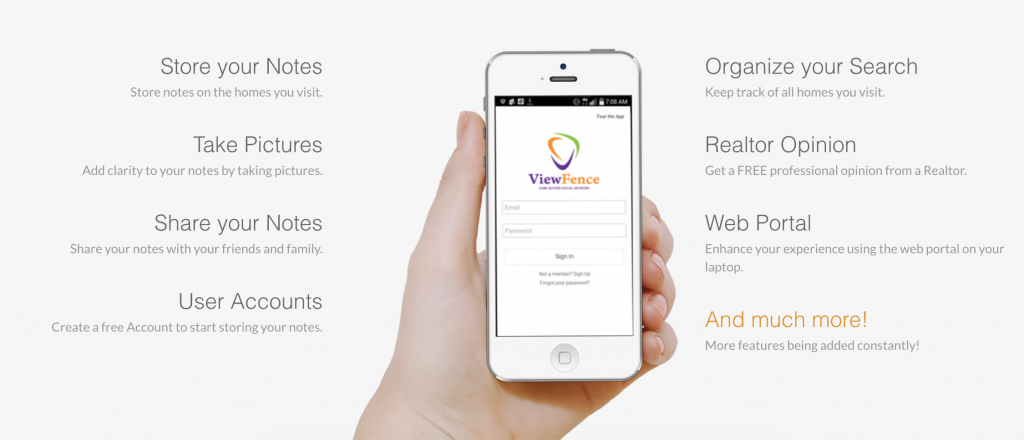 About the Company
The ViewFence app was born as an effort to provide unbiased third party opinions about homes, before buyers decide to spend thousands of dollars on the purchase. ViewFence provides a platform where home buyers and real estate agents can write personalized reviews and share objective opinions about the homes they visit.
The Problem
ViewFence recognized that it is important for home buyers to organize, track, evaluate and compare homes as part of the viewing process. Some of the flexibility the app needed to provide included:
Clean and consistent interface across multiple mobile devices and platforms
Real-time access to unbiased third party opinions and
Ability to take photos and share reviews with family and friends
The company was looking to support a rapidly evolving user experience based on feedback from initial beta users. They were looking for a platform that would enable them to innovate faster and incorporate user feedback.
Solution
ViewFence evaluated several mobile application development platforms (MADP). Appery.io stood out for the following reasons:
Intuitive interface and accelerated learning: The online interface and the usage of standard JavaScript constructs enabled the team to quickly get comfortable with the platform. This also eliminated the need for any specialized mobile platform training for the developers.
Quick turnaround time between releases: The companion Appery.io Tester app on iOS and Android platforms enabled the team to rapidly test features on various devices. The "write once deploy everywhere" development approach allowed the team to simultaneously and seamlessly release the app on multiple App stores and seek feedback from the beta users.
Exceptional support: A comprehensive knowledge base, an active online support forum and responsive support staff ensured timely resolutions to development issues.
ViewFence app was built using Appery.io App Builder for jQuery Mobile, Appery.io Database and Appery.io Server Code.
Looking Ahead
With the help of appery.io, ViewFence has been able to launch the app and is looking to further enrich its offering by expanding features to include REST API integration with real estate content providers including MLS and zillow.com.
Install and use the app today at Apple Store and Google Play at the following links:
Apple Store: get the app
Google Play: get the app
Website: http://www.viewfence.com