On November 8th 2015 we will be revamping the online pricing for the Appery.io platform.  Although pricing will be generally higher reflecting the significant enhancements we've introduced, we plan to grandfather* existing paid subscriptions. If you are considering subscribing or upgrading your plan, you may want to do so before November 8th to be grandfathered in at today's prices. (Please see the note about grandfathered plans at the end of this post.)
New 14-Day Free Trial to Replace Starter Plan to Enable Customers to Better Evaluate Our Platform.
Many customers have requested the ability to go beyond a 3-page app and a single developer seat (today's limit on the Starter plan) in order to fully evaluate the Appery.io platform. As a result, rather than offering a free Starter plan that is limited, we will offer a 14-day free trial to the fully featured "Pro" level plan, including support for a team of up to 4 developer seats. We believe this approach will enable our customers to more fully evaluate our platform including building more complex apps and trying our team administration and collaboration capabilities before subscribing.  
Existing Starter plan users will be automatically migrated to the new Pro plan with a free trial period of 14 days starting on November 8. At the end of this evaluation period users will have the opportunity to select any one of our paid plans.
When the trial period ends or a paid account is cancelled for lack of payment the account will be deactivated, without access to apps or backend services. Customers will regain access to their apps if they subscribe to a paid plan within 60 days of the account becoming inactive.
New Team Plan to Replace Premium Plan
The new Team plan is designed to better meet the needs of development teams and comes bundled with 6 developer seats and 15 apps. Over time we plan to significantly improve the team plan capabilities with improved productivity and encourage all teams to consider adopting this new plan. The Team plan replaces the premium plan. Current Premium plan customers will be grandfathered* as discussed before.
Updated Basic, Standard, and Pro Plans
The updated Basic and Standard Plans are intended to meet the needs of individual developers. New Basic and Standard plans will be limited to one developer seat and will exclude support for team administration and collaboration. Pro plans will support up to 4 developer seats, including during the free trial period. In addition, the new Standard and Pro plans will be limited to 2 and 7 apps, respectively. Finally, the ability to export an app backup will be available in the Pro and higher plans, but not in the Basic or Standard plans.
Updated Developer Seat Pricing
The price per additional developer seat will be $25/month if paid annually or $30/month if paid monthly.
Custom Enterprise Offerings
As before, we offer complete flexibility with custom plans to meet the needs of individual customers, including on-premise licensing and enterprise grade SLAs. Just contact us.
For an overview of the upcoming pricing, please review the summary table below. More detailed pricing will be available on our pricing page once the new pricing goes into effect.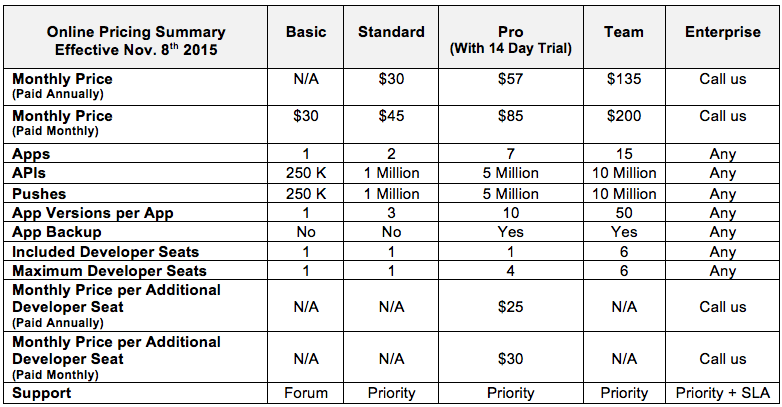 Consider Subscribing or Upgrading Today!
If you are considering subscribing or upgrading, you should consider doing so now to take advantage of the lower, grandfathered* pricing.
For clarification, we are now using the term "developer seat" instead of "users" when referencing the developers in a team.  This will avoid confusion as the term "users" sometimes refers to the end users of the app, not the developers.
If you have any questions, please don't hesitate to contact our support team.
---
*About grandfathering current subscriptions (Basic, Standard, Pro, and Premium): Current paid subscriptions will continue with existing prices until a change is made to the subscription. Any change in the subscription will require the customer to change to one of the existing plans at the time of the change. For example, adding or subtracting developer seats, upgrading or downgrading a subscription, or letting a subscription expire without payment will require the selection of one of the new plans, at the new pricing.