NEWSLETTER: JULY 2015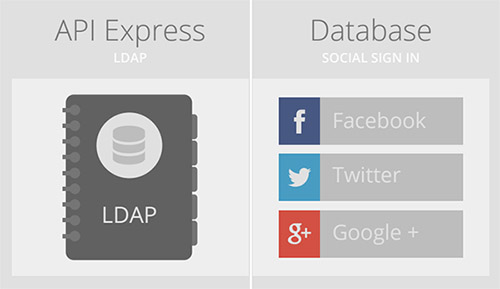 New Updates: Identity Integration with Social Networks & LDAP and More!
With our recent update, we've added some awesome new features to the Appery.io platform, the biggest being identity integration with social networks and LDAP! The vast majority of mobile apps require users to sign up by providing credentials. By providing the social network integration out-of-the-box, Appery is significantly simplifying the process of adding identity to mobile apps. Adding the social network authentication can literally be done in a few clicks by visually configuring the database settings. Together with the social network integration, we've implemented the ability to use LDAP for user authentication. LDAP authentication and API Express is the ultimate combination for enterprise integration. We've also added some new Bootstrap and Ionic components, improved our server code API, and more! You can learn more about the update
here
.
Water Conservation App
As you are probably aware, California is in the midst of a horrendous drought, and prudent water usage is of utmost importance. The City of San Diego has had great success fighting the drought with its "Waste No Water" app. This app has enabled the city to enlist the community directly in supporting water conservation efforts at the street level. The app allows you to:
Report water waste issues such as water runoff with GPS location accuracy.
Connect with local water conservation social media accounts.
Use the app as a portal with links to the community's water conservation programs such as water restrictions and rebates, along with other useful links like "Pay Your Water Bill."
And more!
We have partnered with the developer of this app to replicate this success in all other areas that are impacted by the drought. You can
learn more about the app here
.
Changes to Versioning Feature and Plans
We want to let you know about upcoming changes to the versioning feature in our plans. We want every plan to enjoy this feature, but we also want to make sure platform resources are used optimally. To balance these two goals, we are introducing a limit to the number of versions for an app based on plan type. The limits for your plan can be found in the table below:

If you have more versions than your plan will allow and you want to retain them, it is important that you restore them no later than September 6th, 2015.
#apperychat
We held our first twitter chat on July 29th. You can read through the transcript
here
. We are planning another one at the same time (9:30am Pacific) for September 2nd.
Upcoming Events
Utah Java Users Group Meetup
Join us August 20th in Salt Lake City, Utah. Our head of developer relations, Max Katz, will be leading a live coding session where you will learn how to rapidly build a mobile app connected to cloud APIs using the Appery.io cloud platform. You'll be able to test the app on your device and package the app for iOS/Android/Windows Phone. You can
register for the event here
.
Angular D.C.
Max will also be speaking at the Angular Washington D.C. meetup with a presentation called "Using AngularJS for Rapid Mobile App Development in the Cloud." It's another live coding session, where you'll be able to build, test, and package your app! You can
register for the event here
.
Upcoming Webinars
What's New in Appery.io!
Wednesday, August 12, at 11:00am Pacific time
Building a To-Do App with Ionic and Appery.io
Wednesday, August 26, at 11:00am Pacific time
Build in 5 Minutes Series
Build in 5 Minutes!
Make sure to check out our ongoing series of videos, "Build in 5 Minutes," where every video will show you how to build a complete real app with Appery.io in under five minutes! We have ten videos so far, ranging from building an app with a barcode scanner to creating a Server Code script to invoke an API. You can view all of the
videos here!