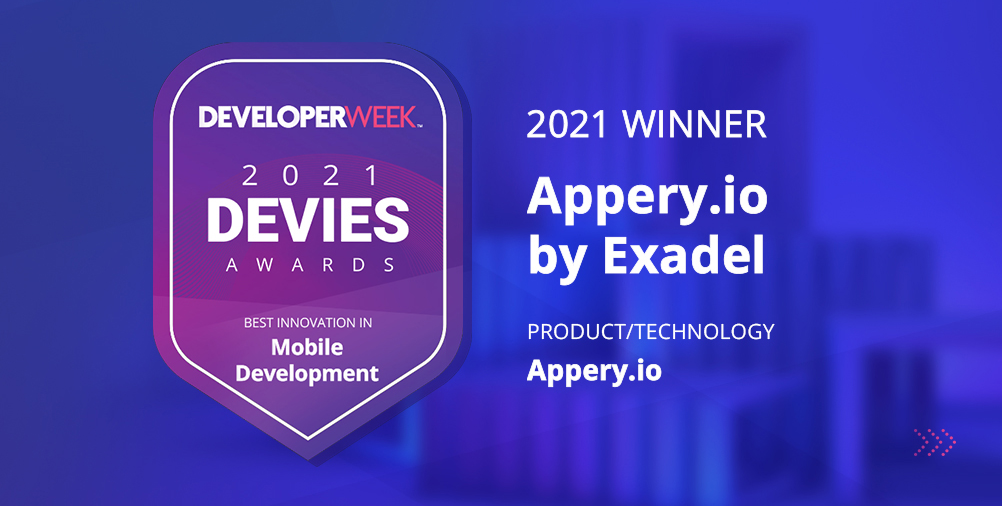 We're excited to announce that Appery.io by Exadel was named a 2021 DEVIES Award winner in the Mobile Development category. The DEVIES Awards recognize excellence in developer tools, products & technology, across 20+ categories.
The 2021 DEVIES Awards received hundreds of nominations, and our developer product was selected as a 2021 DEVIES Award winner based on three criteria:
(1) attracting notable attention and awareness in the software industry;
(2) general regard and adoption by the developer, engineering & IT community; and
(3) being a technical leader in its sector for innovation.
"It is an honor to be recognized by the DEVIES for Appery.io's contribution to low-code mobile app development," said Eldar Chernitsky, Head of Product at Appery.io by Exadel. "Our organization always strives to deliver a simple yet sophisticated development experience so users can create the cutting-edge apps they need to grow their business or personal portfolios. This award is very valuable to the Appery.io product by Exadel because it reflects our positive reception among the developer community".
"Developer tools and solutions are continuing to grow in their importance to the global technology industry. Appery.io by Exadel is a great example of the new era of products and services allowing developers and engineers to have a greater impact on a company's bottom line and overall efficiency", said Geoff Domoracki, CEO of DevNetwork, producer of DeveloperWeek and the 2021 DEVIES Awards.
Appery.io will be presented their award at the 9th Annual DEVIES Awards Ceremony on Thursday, February 18, 2021, during the all-virtual DeveloperWeek 2021, the world's largest developer & engineering conference & expo with 8,000+ participants.