Although enterprises are adopting cloud services at a rapid pace, there are still situations where companies prefer a private deployment of our platform.  For them, we have good news.  Appery.io can now be deployed on the customer premises managed by the customer; privately in our cloud, managed by us; or as usual, in our secure, multi-tenant public cloud.   We are also supporting hybrid approaches where a portion of our platform is deployed behind the firewall where it can more easily integrate with enterprise data.  With today's news, all enterprises can now accelerate mobile innovation with Appery.io, regardless of the preferred deployment model.
We couldn't think of a better place to announce this news than here at the Forrester Forum for Technology Management Leaders, where we have partnered with Forrester to exclusively pre-release their book  "The Mobile Mind Shift: Engineer Your Business to Win in the Mobile Moment."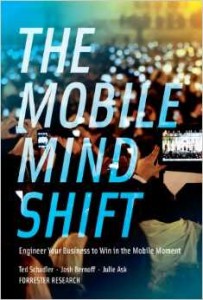 Mobile users have been experiencing a "mobile mind shift" for a while now, and enterprises must reengineer their businesses for mobile, or be disrupted.  According to a recent Forrester Research report "Smartphones are becoming an extension of our brains. When we don't immediately find what we want, we turn to our phone or tablet and look for a service that can help us directly"… "The mobile mind shift is the expectation that I can get what I want in my immediate context and moments of need."
This Mobile Mind Shift has sparked unprecedented demand for mobile innovation in the Enterprise and traditional mobile platforms can't keep up.  Each "mobile moment" is a battleground for attention that may require a new mobile app. There are hundreds of new apps that need to be created at a very rapid pace within each enterprise: to better serve customers, to improve sales force effectiveness, to improve employee productivity, to mobilize existing business applications, etc. etc.   Appery.io, designed specifically to accelerate mobile innovation in the enterprise, enables enterprises of all sizes embrace this mobile mind shift.
"We recognize that large businesses cannot always share a multi-tenant system with other companies because of specific IT policies," said Exadel CEO, Fima Katz. "Our goal was to meet our customers' needs by providing them a method of deploying their mobile applications to a private cloud. Now, companies of any size can develop apps on a private or public cloud using Appery.io's unique platform."
We are sponsoring Forrester's Forum for Technology Management Leaders in Orlando, FL May 5-6, 2014.  Come to our booth to pick up a free copy of the upcoming book.  For media inquiries or press briefings on Appery.io's newest offering for the enterprise, please contact us at Exadel@racepointglobal.com.
To keep up with the latest in technology from Appery.io, follow our live updates on Twitter @apperyio.